Good morning. The Group of Seven summit gets underway, markets contend with inflation fears and the U.K.'s reopening is poised to be delayed. Here's what's moving markets.
G-7 Summit
The Group of Seven summit, being held in Cornwall in the U.K., gets underway fully on Friday. U.K. Prime Minister Boris Johnson and U.S. President Joe Biden met ahead of the event, with Johnson saying Biden didn't push him on fixing relations with the EU, following tensions over the past week related to Northern Ireland and the Brexit agreement. Elsewhere, leaders are set to confirm plans for extra Covid-19 vaccine doses and there will be plenty of attention on green goals, including climate finance and ambitious plans to accelerate the shift toward electric cars.
Inflation Debate
The European Central Bank renewed its pledge for faster bond-buying even as policy makers adopted a more optimistic view on the risks facing Europe's economy. ECB President Christine Lagarde said the bank remains sanguine on inflation, though some members are said to have raised the prospect of upside risks. The policy decision coincided with consumer-prices data in the U.S. which topped expectations and fanned worries that inflation could become more established as the economy bounces back. The Treasuries market, however, seems to support the view that inflation will prove transitory.
Reopening Delay
U.K. Prime Minister Boris Johnson is poised to delay the final lifting of virus restrictions in the country, due to happen on June 21. Johnson is set to announce next week whether the final curbs will be lifted, but a recent rise in cases in the country is set to force a rethink and deal a blow to hospitality and entertainment businesses. The airline industry, meanwhile, is pushing for a faster restart of U.K.-U.S. travel, calling on leaders to go further than the tentative pledges made this week to resume flights. Carriers also want to overturn EU compensation laws after paying out billions in refunds during lockdowns last year.
Bitcoin Challenges
Bitcoin and other cryptocurrencies are relatively stable heading into Friday, following a series of developments for the market. International banking regulators decided to classify Bitcoin as the riskiest of assets, dragging cryptos further into the mainstream financial world. Elsewhere, the outlook is hazy: JPMorgan sees some bearish signals; cyberattacks demanding ransoms in Bitcoin have dimmed hopes that policy makers are warming to digital assets; and the International Monetary Fund has warned about the challenges posed by El Salvador adopting Bitcoin as legal tender.
Coming Up…
European stock futures are pointing to a marginally-positive open after a mixed day in Asia. The S&P 500 hit a fresh record in the U.S. There is a smattering of economic data, including U.K. industrial production, while the earnings calendar is quiet. Bank of England Governor Andrew Bailey and U.K. Chancellor of the Exchequer Rishi Sunak speak at an event with the BIS Innovation Hub, while the Bank of Russia gives its rate decision. And the delayed Euro 2020 soccer tournament kicks off, with Italy and Turkey the first game.
What We've Been Reading
This is what's caught our eye over the past 24 hours. 
And finally, here's what Cormac Mullen is interested in this morning
Often overlooked by investors, global consumer staples shares look to be attempting to break out from a long period of underperformance. An MSCI gauge of the sector is back testing its post-pandemic downtrend against the global stock index, a break of which would open up the door for further upside. The cohort hit a 13-year relative low in March and has been consolidating since. Well known as a defensive sector, staples stocks have suffered in comparison to their consumer discretionary peers, which analysts expect will benefit more from a splurge of any excess savings when economies fully reopen. But with question marks over peak global growth and some analysts suggesting we are in a shorter-than-usual cycle, increased staples exposure might be prudent. Bank of America noted "furious" short covering in staples last month in its fund-manager survey — a good sign that at least some investors think the period of underperformance is over. With other financial market havens doing well recently, from Treasuries to gold, it might be time for staples to do the same in the stock market.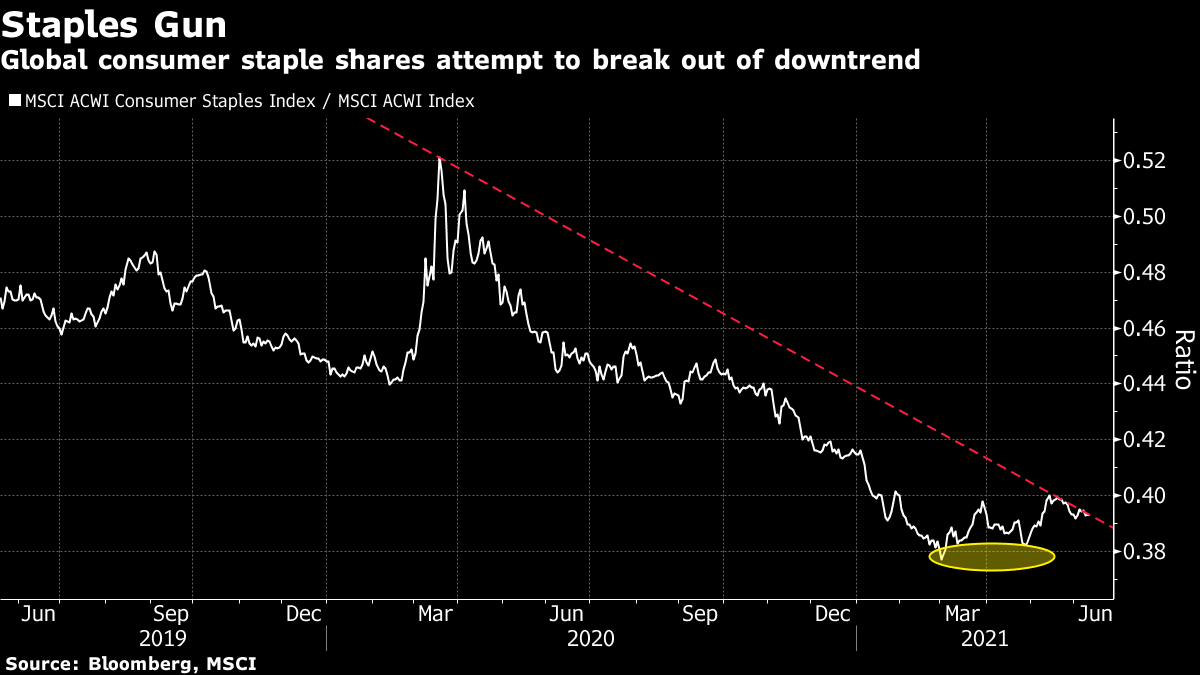 Cormac Mullen is a cross-asset reporter and editor for Bloomberg News in Tokyo.
Like Bloomberg's Five Things? Subscribe for unlimited access to trusted, data-based journalism in 120 countries around the world and gain expert analysis from exclusive daily newsletters, The Bloomberg Open and The Bloomberg Close.


Read More: Stock Markets Today: G-7 Summit, Central Banks and Inflation, U.K. Reopening

2021-06-11 05:25:00